Deloitte Tax Challenge 2024
Lowongan | 13 Nopember 2023 10:03 wib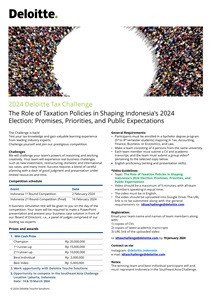 Deloitte Tax Challenge 2024
Get ready for an incredible opportunity! The highly anticipated Deloitte Tax Challenge is back and registration for the 2024 edition is officially open up until 19 January 2024.
Last year, over 100 students showcased their tax expertise and presentation skills. The winning team even competed at the South East Asia level in Malaysia. This year, we're hosting the SEA competition right there in Indonesia, and we want YOU to be part of it!
We're counting on you to share this exciting opportunity with your fellow students. Please refer to the attahed file for this year theme, important dates, general requirements, and registration details.
Let's make an unforgetable experience with Deloitte Tax Challenge 2024!